| | |
| --- | --- |
| TV • DTV DX EXPO | Page and images owned, maintained, and © copyrighted 2012 by Danny Oglethorpe |
KHON-2 Honolulu, HI at 3,973 miles
Received on October 30, 2003

In spite of doubters in the DX community, I honestly believe that the odd signal that Steven Wiseblood (near Brownsville TX) and I received was KHON-2 Honolulu via F2. KHON-2 was the only TV station on channel 2 anywhere west of here airing "The People's Court" in English at that time of day. KHON-2 was also the only possibility via F2, and the propagation was indeed F2. Most of all, Ham operators in this region of the country had strong contacts with Hawaii at the same time on the 6 meter band.
Due to the doubters and my lack of confidence, KHON-2 was NEVER counted in my log totals until March 6, 2012. My wife and son told me I was crazy for not counting KHON-2. In retrospect, I think they were right...
I sent a recording of my reception to F2 expert Robert Copeman in Australia a few years ago. In his opinion, this is indeed F2, and it is possibly KHON-2. Thanks to Robert for taking the time to review my tape.
Recent comments from Doug Smith (W9WI), Hugh Hoover, and Russ Edmunds influenced my decision to reconsider the KHON-2 reception. (The comments were part of a discussion on WTFDA Forums of Christopher S. Dunne's amazing F2 reception of South America TV on February 29, 2012. See the WTFDA thread here, along with a link to some of Christopher's F2 video.)
Another factor in my decision is Pat Dyer's (WA5IYX) video of the October 30, 2003 event.
After much consideration (eight years worth), I decided to count KHON-2. Common sense and confidence in my abilities as a DXer finally prevailed.
Although the video is not pretty, these photographs actually do not do justice to the signal. The recording looks better.
The possibility of receiving TV DX via F2 never seemed realistic to me. Therefore, I was not at all prepared when some F2 actually made its way to my TVs. (I do have a few minutes of that event on tape. I need to dig that tape out of my collection and make a few photographs.) The next time F2 visited my TVs I was preapred, but no ID was received. Although my experience with F2 has been interesting, it has not been totally satisfying...
Don't you just hate it when a person has an excuse for every mistake he has ever made?
Well, I messed-up my first experience with F2 on December 30, 2001. That F2 was from somewhere in the vicinity of Venezuela. (I do have a few minutes of that event on tape. I need to dig that tape out of my collection and make a few photographs.) And I have some excuses (in addition to my admitted stupidity).
1. At that time, my local cable TV system leaked signals on the low-band (channels 2-6) to my east/southeast/south. (The leakage is not as severe now as it was then.) Therefore, signals from those directions had to be pretty strong in order to pull through the leakage.
2. My local analog channel 3 was putting out radiation on channels 2 and 4 for days at a time during the winter months. This was not adjacent channel splash (I had traps for that), but actual signal on the adjacent channels. This was going on the morning of 12/30/01. (I no longer have a local on channel 3.)
3. By nature F2 doesn't always appear to arrive at the receiver via a direct route. Therefore, I thought the odd-looking signal was a combination of cable leakage, channel 3 adjacent channel radiation, and weak Es from the east/northeast.
If I had only checked the WTFDA email list during the time of the odd signal, I could have read timely reports of F2 being received on TV in eastern parts of North America! But no, I simply felt like it was just some mixed-up Es from the usual eastern Es stations like WMAR-2 Baltimore. Thus, I didn't pay the signal much attention and only caught a few minutes of it on tape. Unfortunately, I was mixed-up, not the TV signal.
You can be assured that I was determined to never make that kind of mistake again. So I studied-up on F2 in hopes of having another chance someday. That chance came on October 30, 2003 at about 1700 Central Standard Time.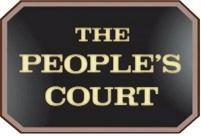 (Logo is owned by the program's producers.)
KHON-2
Honolulu, HI
October 30, 2003
F2 signal first noted at about 1700 Central Standard Time
The People's Court logo is lower left
3,973 miles via F2


| | |
| --- | --- |
| TV • DTV DX EXPO | Page and images owned, maintained, and © copyrighted 2012 by Danny Oglethorpe |