A Philadelphia DX Story
On Friday, June 12, 2009, my son and I witnessed one of the most interesting events of my forty-plus years of DXing. E-skip gave us the opportunity to see the sign-off of WPVI-6 analog TV in Philadelphia and the sign-on of WPVI-DT-6 (at a distance of 1,157 miles). Much of WPVI's noon newscast was devoted to the DTV transition. WPVI went off at 12:15 Eastern Time. At that time, a DTV information slide from WJAC-6 Johnstown, PA appeared briefly. In a matter of seconds, WPVI-DT's digital snow covered WJAC on the analog TV, while the Zenith DTT-901 digital converter's signal bar began to move. Soon afterwards, a few spurts of video were decoded from WPVI-DT-6.
This page was modified and expanded in 2012 using photographs taken from DX video recorded June 12, 2009. Several new photographs were added, and another photograph was replaced with a better quality one.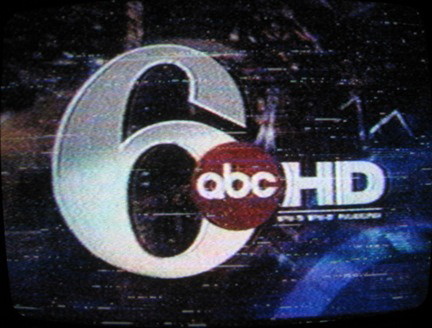 1201 Eastern Time
WPVI-6 newscast begins
1201 ET
1201 ET
1201 ET
1203 ET
1203 ET
Consumer Reporter Nydia Han is talking about the DTV Transition.
1211 ET
DTV Transition countdown
1214 ET
WPVI-6 preparing to sign off
1214 ET
WPVI-6 preparing to sign off
1214 ET
Nydia Han has spoken the last words to be heard on WPVI-6 analog TV.

Note WPVI-6's signal has taken a fade and is receiving strong co-channel interference from WJAC-6 Johnstown, PA. Note the presence of sync bars on the screen. The fading does not have anything to do with the upcoming signoff; fading is a natural part of long distance propagation modes.

1215 ET
This is barely a second before WPVI-6's analog signoff.
Nydia Han's smiling face will be the last image ever seen on WPVI-6 analog TV.
1215 ET
WPVI-6 analog is off
WJAC-6 Johnstown, PA appears
1215 ET
WPVI-DT-6 is on
WPVI-DT-6's snow begins to cover WJAC-6
Shortly after 1216 ET
WPVI-DT-6 decodes
"DTV 6-3 WPVI-WX"